How to Use Mirrors For More Light & Style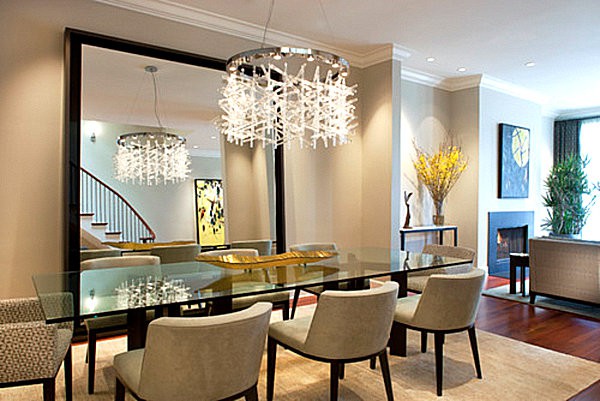 Mirrors are a decorator's best friend, and with good reason — a well-placed mirror makes the most of a room's natural light, enhances views, opens a small space and adds oomph to decor. The key lies in pairing the right mirror with the right location to maximize its decor-uplifting potential. Here are 15 proven pairings to try in your own house. Click here to  read the houzz.com article and to view all the photographs! 
1. Full-length mirror between two windows.  Tricks the eye into believing there is a second window and helps maximize light.
2. Wood framed mirror in the kitchen.  Creates a homey vibe and a bit of warmth.
3. Wall mirror behind a chest.  Suggests there is more space.
4. Narrow mirror flanked with art.  Pair with framed prints to create symmetry.
5. Sunburst mirror over a console.  Sunburst mirror can add a real flair to a space.
6. Sunburst mirror over the bed.  Provides a design focal point.
7. Pretty mirrors behind bedside lamps.  Great way to ramp up the glow of your lowlights.
8. Two mirrors on adjacent walls.  Bounces the light creating the illusion of space.
9. Mirror across from a window.  Increases light and views.
10. Mirrored backsplash.  Opens up a small space.
11. Round mirror tucked into a bookcase.  Brings a sense of depth to the room.
12. Extra-large mirror above the mantel.  Provides a sleek modern look by maximizing light and opening up the space.
13. Full-length mirrors in a home gym.  Beautiful but functional.
14. Round mirror in place of a medicine cabinet.  Breaks up the square angles of most bathrooms.
15. Small mirrors propped on a picture shelf.  Can cluster together for a unique look or provide flexibility in changing up the
     design.
And remember, for all your glass & mirror needs call Frank's Glass at 513.829.8284!