Shower Glass Coatings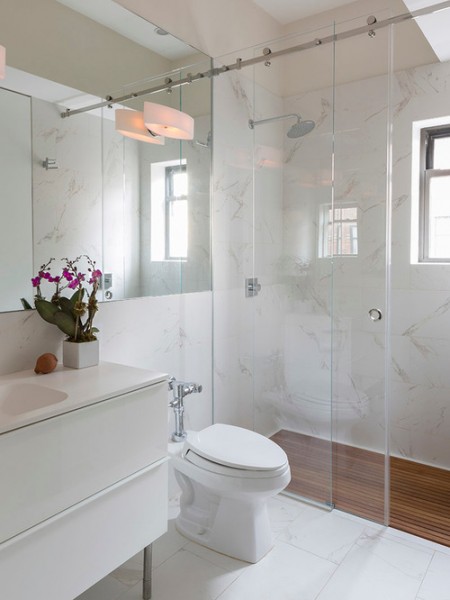 Looking to remodel your bathroom and in the process of selecting a new shower enclosure?  One of the most important considerations is whether to pay for the glass coating. We all know that you can spend hours cleaning the grime and soap build-up in our showers.  Modern technology has found an answer to eliminate the torture of keeping your glass clean.  The answer is in the coating.
How does the coating work?  Glass is actually a very porous material.  As a result it is very easy for glass, as it ages, to become rough, allowing soap and grime to embed in the glass making it difficult to clean.  A shower coating is a permanent  coating that provides permanent, proven protection. It stays beautiful for a lifetime. The glass is coated using a patented technology. The result is an invisible protective barrier that prevents the glass from showing signs of age and build up of permanent damage. 
Most shower manufacturers provide a coating as an option.  Frank's Glass offers Showerguard protection, a patented ion based technology that is baked into the glass in the manufactuing process.  It is backed with a lifetime warranty.
Over time the hard water minerals and soap grime will deposit on the surface of the coating so it is still necessary to clean the shower on a regular basis.  Wiping the glass walls down with a squeegie or towel daily will help keep the glass looking good over time.  Mild cleaners are also recommended to be used to keep the deposits to a minimum.
Ordering your shower glass with a coating can make cleaning a breeze so you can relax and enjoy a long hot shower without worrying about having to scrub the glass afterwards.  It is well worth the investment!