Mirrors Can Make a Real Impact in Kitchen Design
October 24, 2023
|
Decorative Mirrors, framed mirror, glass, Glass Back Splashes, Glass Cabinets, Glass Counter Tops, Glass Counters, kitchen design, Mirror Decor, Mirror Design, Mirror Walls, mirrored back splash, mirrored wall, mirrors, Mirrors in Design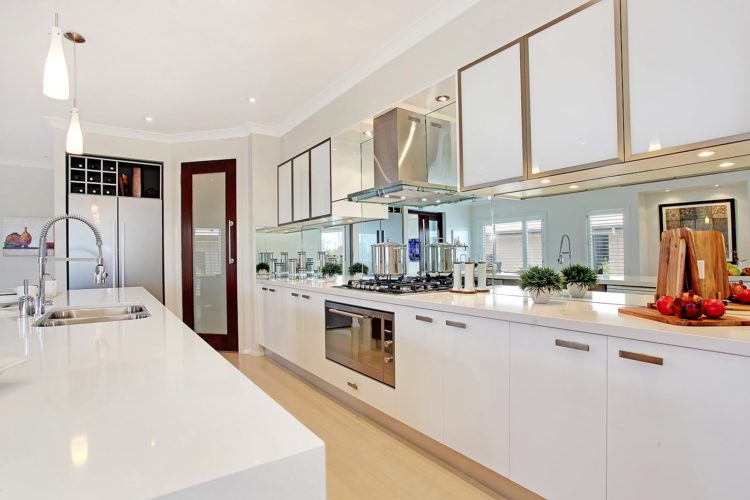 Great article from nimvo.com highlighting 20 beautiful kitchens that have incorporated mirrors as an integral part of their design.  From back splashes to framed mirrors and cabinet inserts, these designers have used glass to enhance the overall space.
Mirrors are a very versatile design medium that can be used to create the illusion of space, provide a reflection of light to open up an area or to be used to highlight a featured wall of color or art.  Although mirrors are commonly used in bathrooms, bedrooms and living rooms not many people think of the design benefits of using it in their kitchen design.
Mirror can be used as a back splash in your kitchen to help enhance the size or light in the space.  Special mirror is required to ensure heat resistance and safety so check with your local expert for recommendations.  Do you have a small kithchen without windows?  A mirrored wall or large framed mirror can help open up this space creating the illusion of space and reflecting the light from adjoining rooms to enhance the size of the room.
Looking to update your kitchen?  Give Frank's Glass a call at 513.829.8284 for all your glass needs.  We can provide back glass/mirrored back splashes, glass counter tops, glass inserts in cabinets, glass shelving and much, much more.