Kitchen Cabinets with Glass Inserts Can Become the Focal Point of your Kitchen
January 27, 2014
|
Acid Etched Glass, Decorative Glass, Fluted Glass, Frameless Glass Front Cabinets, Frosted Glass, Glass Cabinets, Glass Inserts, Painted Glass, Rain Glass, Seeded Glass, Seedy Glass, Sliding Glass Cabinets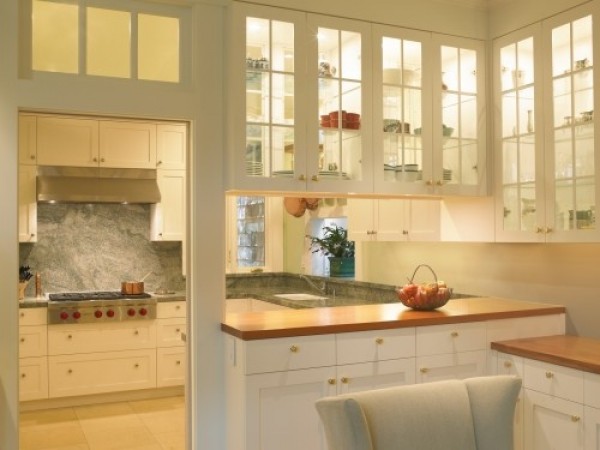 Are you looking for that special way to make your kitchen unique? One way is to add glass to your cabinets to provide that design element that makes your kitchen shine! These clear cabinets can be illuminated for ambiance, display precious possessions or special artwork, store functional storage items and ease transitions from room-to-room. The article 8 Beautiful Ways to Work Glass into Your Kitchen Cabinets provides some great ideas on how to make your cabinets the focal point of your kitchen design.
There are many ways to incorporate glass cabinets into your kitchen design. The 8 ways highlighted in this article are below. For more details and some great photos read the entire Houzz article.
1) Glass front peninsula cabinets,
2) Frameless glass-front cabinets,
3) Picture window cabinets,
4) Sliding glass cabinets,
5) Decorative glass inserts (i.e. seeded, frosted, rain, fluted)
6) Glass front base cabinets,
7) Tall glass front cabinets,
8) Painted glass front cabinets.
And remember, for all your glass needs call Frank's Glass at 513.829.8284!