Incorporating Stone Into Your Bathroom Remodel
October 22, 2014
|
Bathroom, Clearshield, Framed Shower Doors, Frameless Shower Doors, Glass Shelving, Mirror, Shower Door, Shower Enclosure, Shower Hardware, ShowerGuard, Tub Enclosure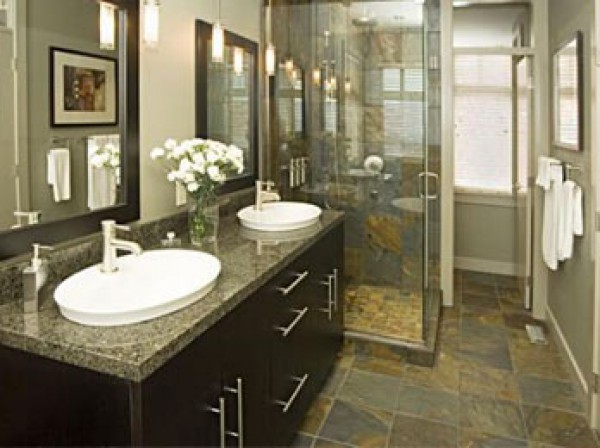 There's no other material quite like natural stone. No two pieces are exactly alike, and nothing else adds the same organic warmth and texture to a bathroom. Not to mention the longevity. If they're well maintained, your stone surfaces can last a lifetime.
Not everyone wants a marble bath. Bring organic warmth to your bath counters, walls or floors with these hard-wearing alternatives. This great article from houzz.com provides some great design ideas for incorporating stone into you bathroom.
Soapstone. Easy to maintain and relatively inexpensive
Limestone. Porous so will require sealant. Popular choice for it's uniform look and warm, neutral color
Travertine. A type of limestone with natural markings in a range of warm, natural hues. Deep pores are often filled with grout.
Belgian Bluestone. Also a limestone but generally with a dark grey or black background. Looks great with a contrasting grout.
Onyx. A unique look with striations in a wide range of colors. Has a translucent quality that designers like to accentuated by using above vanities and highlighting with special lighting. Stone is delicate and requires sealing.
Slate. Slate can be installed in slabs or mosaic tiles to make a very unique design. Slate is a popular bathroom floor option as it is a naturally slip-free material.
Sandstone. Created by layers of densely packed sand, the material has a wavy desert-landscape-like appearance and comes in a variety of colors. Imperative that is be sealed 1-2 times per year.
With so many options it's hard to decide which material to use! And remember, call Frank's Glass at 513.829.8284 for all your shower door/tub enclosure, mirror and glass shelving needs. We can help make your bathroom that personal utopia you have always dreamed of! For design ideas go to our Pinterest page at http://www.pinterest.com/franksglass/.