Incorporate Screen Doors in Your Home Design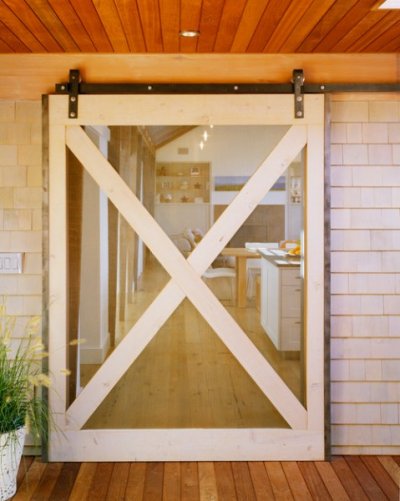 It's that time of year when you want to throw open your windows and let in the Springtime breezes. Screen doors are great for letting breezes in and keeping bugs out — but they can also do so much more. Gain charm and function with screen doors in unique shapes and sizes, from barn-style screen doors to whole-wall versions, or put one in a less expected spot, like the pantry or nursery.This article from houzz.com provides some great ideas on incorporating screen doors into your home design.
Barn-style screen door. Can provide real charm and allow breezes to flow while providing protection against bugs.
Pantry screen door. Provides that farm house appeal in the kitchen.
Pivoting screen door. For a more modern look consider this streamlined design.
Retractable screen wall. A great way to create indoor-outdoor space while still providing a barrier to bugs.
Decorative screen door. Choose from ready-made designs or work with an artisan to create something especially for your space.
Compact sliding screen door. Creative way to incorporate a screen in a small space.
Nursery screen door. Allows you to peek in on your sleeping child and keeps pets out.
French screen doors. Match an interior set of French doors or install as an entry to a screened porch.
Playhouse screen doors. Help protect the tots from the bugs while still enjoying the great summer days.
Classic screen door. Paint it a fun color to make it "pop".