Home Fall Maintenance Check List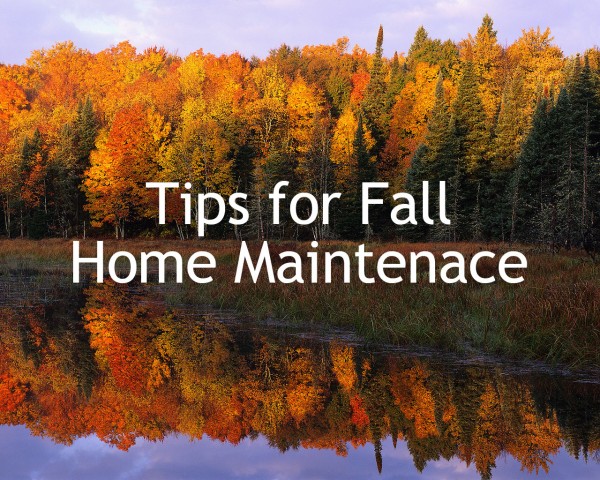 Prevent winter damage and boost energy efficiency by ticking off these to-dos before cold weather hits. Great article from www.houzz.com on getting your house prepared for winter.
Care for trees and shrubs. Cut out any dead limbs and have dead trees cut down and removed. Use the wood to build a roaring fire during the cold winter months.
Rake leaves. Leaving leaves behind can inhibit spring growth.
Clean gutters and downspouts. Clogged gutters during rainstorms and with ice build up can cause water to pool and can result in damage to your roof or siding.
Make exterior repairs. Take a walk around your house. Any roof shingles missing? Siding damaged? Get these repairs completed before winter settles in.
Seal gaps so critters can't get in. Fill small holes and cover large gaps to prevent animals from seeking warmth throughout the cold winter months.
Check walkways, rails, stairs and driveway for damage. Get these repaired to help minimize the potential of injury when those surfaces are icy or snow covered.
Stock up on winter supplies. Make sure each car is equipped with an ice scraper and an emergency car kit. Check your shovels to make sure they are in good condition. If you have a snow blower make sure it is in good operating condition. Buy a bag of ice melt to have on hand for that first snowfall.
Shut off exterior faucets and hoses. Protect your pipes from freezing temperatures by shutting off water to exterior faucets before the weather dips below freezing. Drain hoses and store them indoors.
Add weather stripping. Weather stripping applied around the frames of windows and doors helps boost winter warmth and cut energy costs. Add door sweeps to the base of drafty doors to keep heat in and cold air out.
Check safety devices. Check the batteries in your smoke detectors and carbon monoxide detectors. Have your home checked for radon if you have not already. Finally, check the expiration date on your fire extinguishers.
Remove window air conditioners.
Clean dryer vents. Lint buildup in dryer vents can make your dryer work less efficiently and even cause a fire — cool, dry fall weather increases static electricity, which can ignite lint that has built up, so now is a key time to get that lint out.
Deep clean the kitchen. Clean the oven, scrub out the microwave, vacuum around the refrigerator coils, clean light fixtures, wash the walls and backsplash and wash out the garbage cans and recycling bins.
Conduct an energy audit. A trained auditor can assess your home's current energy efficiency and give you a list of recommended improvements you can make, which may include upgrading to Energy Star appliances, adding insulation to the attic or beefing up weather stripping.
Schedule a chimney cleaning service and heating system maintenance. Making sure your chimney and furnace or boiler are cleaned, maintained and in working order before you need to turn on the heat is an important safety measure. And be sure to add a chimney cap if you don't already have one — it will stop critters from crawling down your chimney!
Check your window panes for moisture/fog between the panes. Contact your local glass company to come out and give you a free estimate for replacement insulated units for better energy efficiency during the cold winter months.
Finally, take a weeks vacation to the Caribbean to recover from all your hard work!