Great Tips on Cleaning Your Shower Door
May 2, 2023
|
Aquapel, Bathroom, Cleaning Glass Shower, Glass Shelves, Glass Shelving, Mirror, Shower, Shower Door, Shower Door Cleaning, Shower Enclosure, ShowerGuard, Vanity Mirror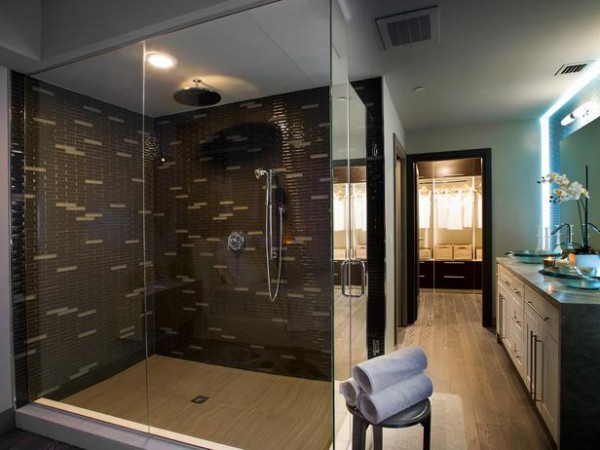 This article from houzz.com provides some great tips on how to clean your glass shower door. But the best option, when purchasing a new shower door, order it with ShowerGuard, where the surface is permanently sealed during the manufacturing process with a patented ion-beam process. With proper maintenance, ShowerGuard glass will stay beautiful for years to come, and ShowerGuard's superior performance comes with a Lifetime Limited Warranty.
Below are a few cleaning tips for your shower door:
Squeegee and microfiber cloth.  Microfiber cloths are the weapon of choice against water spotting and buildup and are prized for their ability to get into hard-to-reach places, such as beneath door handles or in tight corners.
Daily shower cleaners.  Once the shower has been wiped down, finish the job with a quick misting of daily cleaner such as Method Daily, Tilex Daily Shower Cleaner, Mrs. Meyer's Clean Day Tub and Tile or your own concoction.
Make your own daily shower cleaner.  Beverly Leestma, DIY expert and author of The Make Your Own Zone, offers these directions for a chemical-free shower spray that saves both money and the environment: Mix together a half-cup of hydrogen peroxide, a half-cup of rubbing alcohol (a natural degreaser), 1 teaspoon liquid dish soap and 1 tablespoon dishwasher rinse aid in a 32-ounce spray bottle. Next, fill the bottle with water and, after capping, rock the bottle gently back and forth to combine the ingredients without making them foam up. Store away from sunlight.
Deep cleanings.  For scrubbing scum (a four-letter word) and hard-water stains, many consumers swear by products such as the Magic Eraser sponge, while others suggest repurposing dryer sheets (simply wet and scrub). Since these products contain chemicals, consider wearing gloves to protect your skin.
A natural alternative.  A mixture of baking soda and water makes a scum-fighting scrub that many experts swear by. To get started, try using a half-cup of baking soda, then add water as needed to make a thick paste. Using a nonabrasive sponge, scrub the glass and rinse it with vinegar.
Long term solutions.  When ordering a new shower door, order with ShowerGuard.  ShowerGuard is applied during the manufacturing process and permanently seals the glass with a patented ion-beam process.  For existing shower doors, apply Aquapel, a water repellant product actually designed for windshields, which will wick the water away, helping to protect the glass against soap scum (would need to be reapplied approximately every 6 months).
Cleaning metal tracks.  plugging any drainage holes or crevices in the track and filling it up with vinegar. Let the vinegar sit overnight and wipe clean in the morning. It gives new meaning to rise and shine!
Hopefully these tricks will make that job of cleaning those nasty shower door glass easier and give you extra time to sit back and relax!
Call Frank's Glass today at 513.300.4616 to get a quote on a new shower door with Showerguard for your bathroom!  You can also purchase Aquapel for $10 per dispenser.