Great Design Ideas Incorporating Mirrors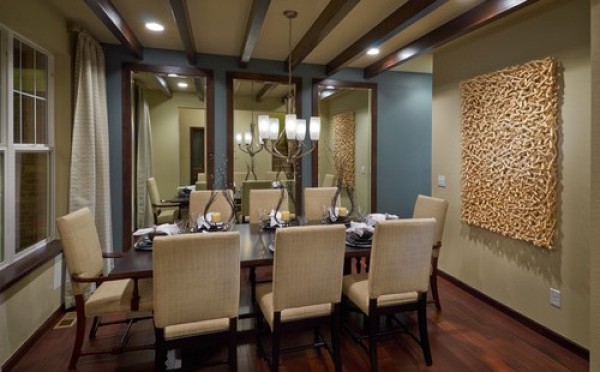 This article from houzz.com provides 11 ideas on how to incorporate mirrors into your home design...the reflective quality can transform a room, creating the illusion of space and adding a bit of drama to your home design.
Installing a mirror on one wall in your kitchen can provide a sense of space, while also providing a back splash to reflect light.
Prop and go. A huge free-standing mirror propped against a wall will brilliantly boost the sense of space in a room.
Fill the alcoves. Use mirrored tiles to flank your fireplace; they will reflect the seating arrangement for a roomier feel.
Expand your closet. Mirrors can serve a dual purpose in the bedroom when installed on closet doors. They reflect the light in the room creating the illusion of space and they provide that place to primp and preen!
Improve a tiny office. Mirror can be installed on a wall in a small space to help make it feel larger. They give the small spaces depth and, when anyone is working at the desk, provide a sense of the room opening up behind them.
Reach to the top. Installing a mirrored wall in a small bedroom can help make the room appear larger, especially if installed opposite a window that reflects the outdoors.
Boost a hallway. Halls often feel gloomy or cramped, but a simple floor-to-ceiling mirror will bounce the light around and brighten the space.
Try a strip or two. If an entire mirrored wall seems overwhelming, consider installing mirrored strips. It still provides reflection to open up the space without creating confusion between spaces.
Cover two walls. Feeling adventurous? Cover two walls in a room to create an abundance of reflection and perspectives, giving the room an expansive and glamorous feel.
Take it higher. Do you have a vaulted or two story space that you want to add drama to? This creates an abundance of reflection and perspectives, giving the room an expansive and glamorous feel.
Enlarge event the smallest rooms. If you have a small powder room or laundry room a mirrored wall can help create space and a decorative flair.
With all these design tips you should be ready to add mirrors to your home, adding to the overall design and decorative flair of your personal space!
Call Frank's Glass at 513.829.8284 for all your glass and mirror needs. www.franksglass.com