Custom Glass Counter Tops Create Dramatic Kitchen Design
April 10, 2018
|
Cabinet Glass, Double Pane Windows, Fairfield, Franks Glass, Glass, Glass Back Splashes, Glass Counter Tops, Glass Shelves, Insulated Windows, Mirror, West Chester, Windows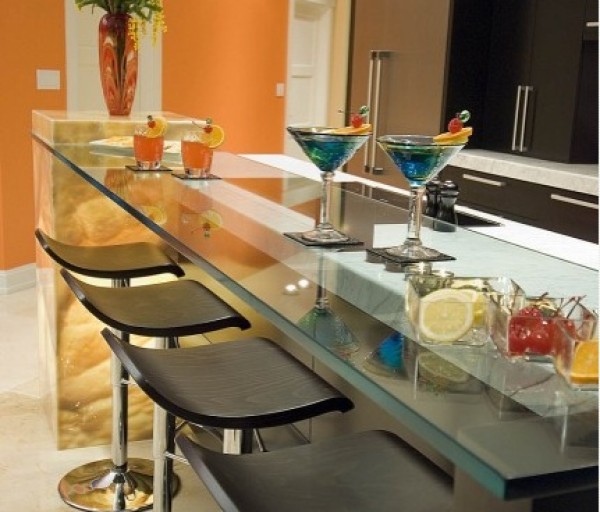 Want to add a touch of pizzazz to your kitchen or bath? Consider glass countertops and/or backsplashes, which are quickly becoming a must have in designer homes. Glass countertops are easy to maintain and highly non-porous, making them stain proof, hygienic and anti-bacterial. Glass counters are extremely strong and are able to withstand a tremendous amount of weight. Glass has the toughness of a construction-grade material, but can be incredibly dramatic with colors, textures, design and backlighting. Glass countertops will enhance the entire kitchen area with its modern beauty and sophistication.
Unique & Lavish Countertop Design
Glass countertops are becoming one of the newest trends in Kitchen & Bathrooms.
Glass countertops have a high-end appearance that distinguishes them from common countertop materials such as granite or synthetic surfaces.
Most glass countertops are produced using 1"-1 ½" thick glass.
Glass countertops can be customized with a choice of color, texture and finish to give it its unique characteristics.
Durable and Easy Countertop Maintenance
Glass countertops have multiple advantages.
Tough – Glass countertops are as strong and durable as any common natural stone or man-made countertop material.
Texture – Textured finishes make dust, fingerprints and small scratches nearly invisible.
Heat – Glass is naturally heat resistant so hot cookware can be placed on its surface (although the use of hotplates is recommended).
Hygienic – Glass is non-porous, making it the most hygienic material available for kitchen and bath countertops.
Glass can also be used to create a dramatic design element in back splashes, raised bars, eating areas and divider walls. Call Frank's Glass at 513.829.8284 to help you create a design masterpiece!