Current Bathroom Trends
August 31, 2016
|
Bathroom Design, Bathroom Remodel, Bathroom Trends, Double Pane Windows, European Shower, Glass Shelving, IGU, Insulated Windows, Mirror, Shower Enclosure, Tub Enclosure, Vanity Mirror, Windows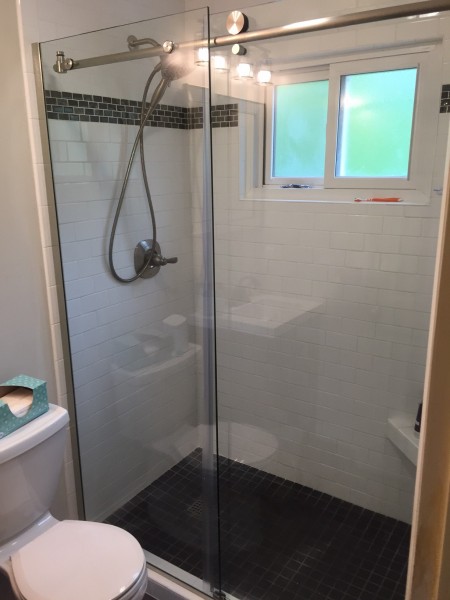 Houzz.com has compiled the latest trends in bathrooms based on what photos their users are saving on their site. Some great design ideas to consider if you are planning on remodeling your bathroom.
Faux Wood Floors. There are a lot of great faux floors available that allow for some fun design ideas. These materials hold up well to the high moisture in bathrooms.
Integrated Lighting. Integrating lighting into your vanity mirror is a great idea to add that extra design flair and while providing the extra lighting needed for personal grooming.
Oversize Sink. A double wide sink can help eliminate messy splashing while providing a great design element to your bathroom.
Glass Block. A comeback from the 80's, glass block can add that unique look to a contemporary bathroom.
Bold Shower Doors. A shower door can be the focal point of your bathroom. Consider a frameless European design or one of the new sliding barn door style designs.
Wall Panels. Add wall panels to provide that luxe look to your bathroom.
Wood Ceiling. A unique way to add that rustic look to your bathroom.
Decorative Windows. Adding a decorative window to your shower wall is a great way to bring in natural light and create a design element.
Overhead Storage. A great way to add additional storage, especially in smaller bathroom with limited space.
Brass Fixtures and Hardware. Brass is making a comeback. Add some brass faucets and hardware to make a real impact to your bathroom.
Incorporate some of these great design ideas into your bathroom remodel. Need a new shower door or vanity mirrors, give Frank's Glass a call at 513.829.8284. We will come out and give you a free estimate. Start now so you can show them off to your Holiday guests!