Black Frame Shower Doors are a Show Stopper
August 16, 2021
|
Bath Enclosure, Bathroom, Bathroom Design, Bathroom Remodel, Bathroom Trends, Shower, Shower & Tub Combinations, shower design, Shower Door Replacement, shower doors, Shower Enclosure, Shower Glass, ShowerGuard, Showers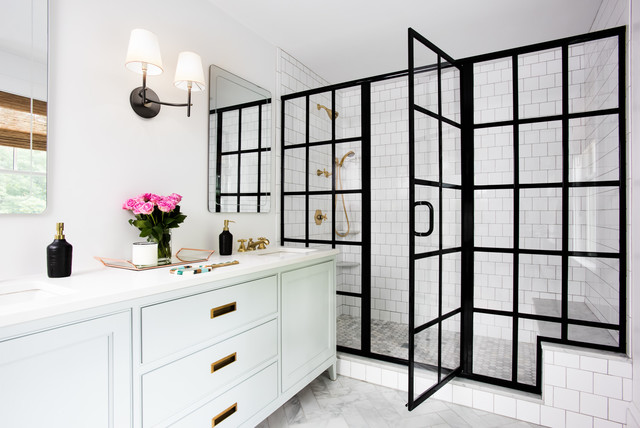 The black-framed shower enclosure is a growing trend in bathroom design. It provides that extra flair! This article from houzz.com highlights homes that have incorporated this striking new design. The top reasons to keep up with the "Jones'" and install that new black framed shower: 
Black-framed shower doors are scene-stealers.  Especially accented with the new trend in brass fixtures!
Black-framed shower doors are industrial chic.
Black-framed doors can be elegant and refined.  They give a whole new décor to a bathroom...sleek & stylish!
Black-framed doors add definition to an expanse of white.  Complements white Carrera marble or subway tiles for an elegant understated look!
Black-framed doors make a walk-in shower stand out. 
A black-framed shower is simply modern.  Well suited for an urban environment.
Black-framed shower doors can bridge styles with ease.  They help different elements work seamlessly together.  Install farmhouse wainscoting with traditional lighting fixtures to tie it all together.
Black-framed shower doors can be timeless classics.  Pair it with traditional design elements for long term appeal!    
Looking at installing a new shower enclosure in your bathroom?  Give Frank's Glass a call at 513.829.8284.  We will come out and provide you with a free estimate!