Bathroom Trends of 2019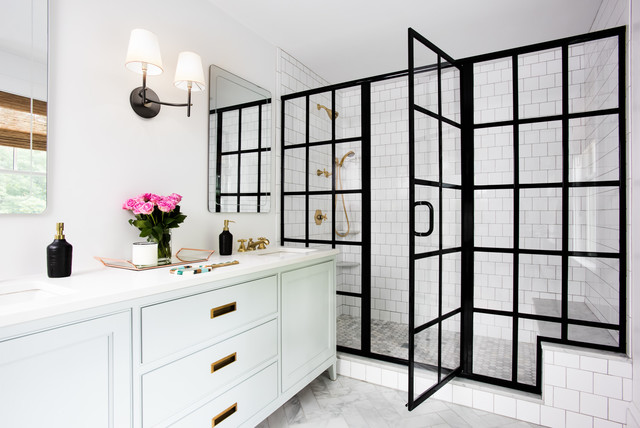 Popular Bathroom Trends of 2019
Great article from Sebring Designs identifying the most popular bathroom trends of 2019. Black is the new gray and brass is back...read on for other emerging trends!
1)  Black is the New Gray - Black accents have become the new craze.  From hardware to light fixtures and even vanities, black is emerging as a popular bold statement.
2)  Technology Takes Over -  Toilets with seat warmers and automatic opener/closers, built in deodorizers, built in blue speakers, voice activated lighting and electronic control of shower are all features being incorporating into the bathrooms of the future!
3)  Brass is Back -  The new brass is a warm tone vs. the shiny brass of the past.  Brass is being used for faucets, mirror frames and lighting fixtures. 
4)  Urban Industrial -  Industial design sinks, showers and hardware creates an edgy, yet classy remodeling trend.  Shower enclosures with a black gridwork frame is one of the newest products to complement the black is back and urban industrial trends.
5)  Tile Patterns & Designs -  New technology is allowing for unique tile design which is being incorporated into back splashes, showers, niches, accent walls and even ceilings.  Fun colors and designs provide a bold accent.
6)  Wood Accents:  Back & Trendy - The warm tones of wood complement the black and urban style trends.  Wood can be used as an accent on walls, floor, cabinetry and back splashes.
7)  Storage Cabinets - A great way to organize all those bathroom essentials while still allowing for the sleek, clean look we all aspire to have.  Wall shelving, hidden cabinets and vanities with lots of drawers and shelves are all populaar storage options.
8)  Add a "Pop" of Color - Add some fun colorful accents, including tile, tubs, mirror frames or accessories.  The color will complement the warm features and the darker colors.
9)  Pretty in Pink!  -  Who would have ever thought pinnk would be a popular bathroom color again (none of us who lived in the 50's & 60's!)  Blush paint and rose colored fixtures & accents are paired for teh newest color trend in 2019.
10)  Big Baths are Back (And Open Showers/Wet Rooms)  -  Large tubs and open showers have become popoular.  Wet rooms provide easy accessibility and a larger space.
11)  High Tech Mirrors & Assymetrical Designs  -  Mirrors are now avaialble with anti-fog finishes, smart touch abiity and USB charging stations.  Custom shapes and back lighting have also gained popularity.
12)  Floor Heating Systems -  Under floor heating systems have increased in popularity due to their warming and noise reduction capabilities.  Warming drawers for towels & robe provide for a luxurious experience.
Looking to remodel your bathroom? Give Frank's Glass a call at 513.829.8284 to schedule an appointment for a free estimate on your shower enclosure, vanity mirrors and glass shelving.