A Reflection On Your Design Style: Decorating with Mirrors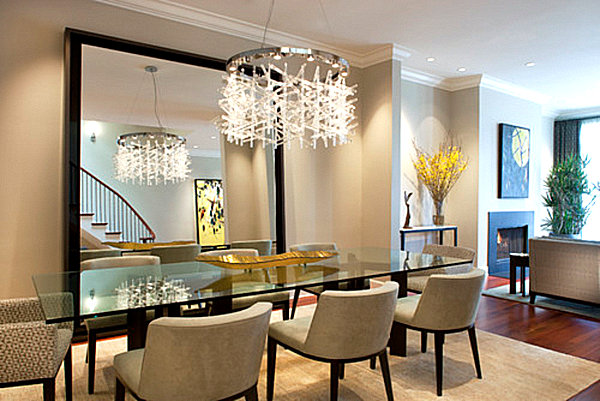 A great article from the Washington Post on using mirrors to make a design impact in your home. Below are a few tips from designers on how to use mirrors to create a design style.
Bigger is Better - A larger mirror makes a dramatic impact and visually expands the space. Using a large mirror in a smaller room can help create the illusion of a larger space. However, when installing a mirror above a piece of furniture it is recommended it should never be wider than the piece it is hanging over.
Positioning is Key - Mirrors help to make spaces appear larger beause of their reflection of light. As a result it is recommended that you install a mirror opposite a window or near a light to provide the most dramatic effect. It is important to remember to place a mirror opposite something you want reflected.
Don't Hang the Mirror too High - Mirrors should be installed a eye level. Hanging a mirror too high can make a room feel disconnected.
Complement & Contrast - Look at your current decor and select a mirror that will create a little contrast. If you have a lot of sharp angles in your furniture add a round or oval mirror, or if your decor is very clean and simple think about selecting a more ornate mirror to provide contrast. Also consider mixing materials, such as wood and metal.
Protect Your Investment - Make sure to clean your mirror and remove dust on a regular basis. It is recommended to hire someome to install heavy mirrors or consider just leaning them against a wall, ensuring they are in an area where they will not be knocked over.
They also say to look at flea markets and garage sales for old mirrors or frames. If you find a frame and need mirror installed, give Frank's Glass a call at 513.829.8284. We can cut mirror to pretty much any size and install it in the frame for you.