4 Secrets to a Luxurious Bathrooom
October 6, 2014
|
Bathroom, Blue Ash, Cincinnati, Clearshield, Evendale, Fairfield, Framed Shower Doors, Frameless Shower Doors, Glass Shelving, Hamilton, Hyde Park, Indian Hill, Mason, Mirrors, Oakley, Sharonville, Shower Doors, Shower Enclosure, Shower Hardware, ShowerGuard, Terrace Park, Tub Enclosure, West Chester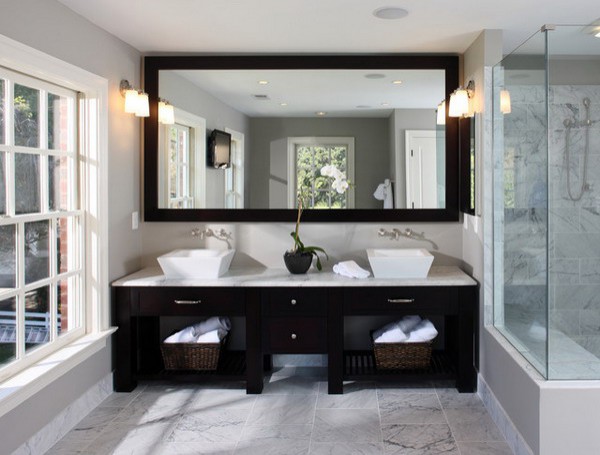 Great article from houzz.com!
Ever looked at a beautiful bathroom and wondered what takes its design to the next level? You're not alone. Many homeowners want to know how some bathrooms get that mysterious designer je ne sais quoi. I'll let you in on a few secrets. Because the overall material costs are low in a small space like a bathroom, it's a great place to spurge a little on a few features. But it also helps to know where to spend and where to save. Here are a few of my favorite tricks for getting a nicely finished look for a lower cost.
Use a smoky glass for the shower/tub enclosure. It provides a high end look for minimal cost.
Upgrade from a shower curtain to a glass tub enclosure.
Install tile from floor to ceiling to make a space feel high end.
Tile small areas with tile or stone to provide that luxurious appearance.
Consider running the floor tile up one wall to highlight a specific area.
If tiling a large area use an economical subway tile but make it stand out by using a dark color grout.
Install a large vanity mirror. It reduces the tile required while making the room feel larger.
IN small bathrooms expand the vanity mirror from wall to wall and use a high end stone or tile between the vanity and mirror to create a sophisticated look.
Select a vanity that helps accentuate the bathroom design.
And remember, Frank's Glass can help you with all your shower door/tub enclosure, mirror and glass shelving needs. Call us at 513.829.8284 for a free estimate. Visit our website at www.franksglass.com or Pinterest page at http://www.pinterest.com/franksglass/.