Glass Fabricator & Table Cutter
Thank you for your interest in applying for a job with Frank's Glass. Because of our commitment to offering the highest possible satisfaction to our customers, we are only interested in hiring the best. We want to have a complete understanding of your qualifications, motivations and interests, so that we can make careful and deliberate hiring decisions that will benefit both Frank's Glass and our employees.
We are an Equal Opportunity Employer and do not discriminate on the basis of race, color, religion, sex, national origin, age, marital status or veteran status, or handicap or disability.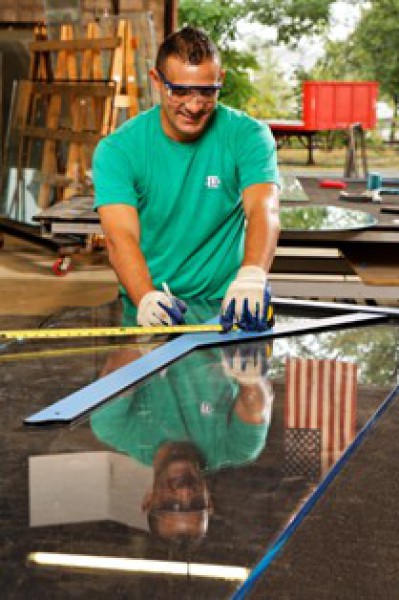 Glass Fabricator/Table Cutter
Job Description
Frank's Glass is a family owned business that has been serving the Tri-State's glass needs for over 40 years.  The table cutter/fabricator is responsible for all aspects of glass orders being processed through our Fairfield location.  This individual will also be responsible for managing product inventories and maintaining all equipment and work space cleanliness.  Frank's Glass has built their reputation on superior customer service and a workplace with a strong team environment.
Essential Duties & Responsibilities
Cutting, handling and fabricating glass for shelving, picture frames, windows, cabinetry, etc.
Installation of single pane and insulated glass into window frames.
Repair and assembly of replacement window screens.  Fabricate new screens.
Inventory assessment.  Daily review of product inventory and subsequent notification to manager of stock requirements.
Loading/unloading of trucks as required.  Checking in and organizing freight.
Deliveries and field installations as required by manager.
Building, equipment and shop maintenance.
Windshield chip repair (training will be provided).
Additional responsibilities as assigned by manager.
 Essential Experience, Skills, and Competencies  
Minimum of 2 years as a glass cutter/fabricator.
Knowledge of glass cutting/fabrication.  Experience with power tools and capability to accurately use a tape measure.
Ability to lift up to 75 lbs.
Self-driven & motivated, willing to work in a team atmosphere.
Must be honest, trustworthy and have a positive attitude.
Must have a valid driver's license.
High school diploma.